Bingo the Wonder Dog was a short series of three films Co made using the machinima movie-making game included in Lionhead Software's The Movies. The films followed the adventures of two comedy rednecks, Billy-Bob and Earl and their labrador 'Bingo'.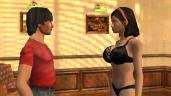 The films were not made generally available but did feature on Fioriboy's account on The Movies online site. Sadly, The Movies, despite being a high-quality title never did seem to receive much recognition and the site is no longer maintained, although an archive of most movies that were uploaded there still exists. Therefore all that remains of the Bingo films is a few reviews and some still images which can be seen in Fioriboy's account archive
The legacy of Bingo lives on, however - in many ways these shorts were the pioneers of the format that became Life with Lamarr. The stories shared the same brand of humour, the titular character was almost mute and very seldom did much that affected the plot and the relationship between Billy-Bob and Earl was similar to that of Barney and Kleiner (although Billy-Bob and Earl were brothers rather than friends). Earl's name was also recycled for one of the recurring Life with Lamarr characters.
Ad blocker interference detected!
Wikia is a free-to-use site that makes money from advertising. We have a modified experience for viewers using ad blockers

Wikia is not accessible if you've made further modifications. Remove the custom ad blocker rule(s) and the page will load as expected.