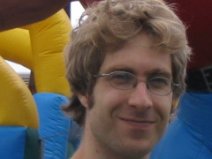 Andrew Kepple (also known as TooMuchSpareTime, born December 18, 1979) is a New Zealander animator. While previously he was mostly known for his animutations and Lemon Demon music videos, in recent years he has become better known for his cartoon shorts. He is currently living in Canada. He is also an occasional collaborator with Co McPhee.
Notable videos
Edit

<(This Wiki needs work, get to it you rapscallions!) (Yes sir!)>

---
Collaboration/Cross-references with Co McPhee
Edit
Kepple wrote the CamPanulas' song, Song, which later appeared on Songs from the Seabed. (2007)
Co recorded the song Mindy Theme for the animated short, Mindy Learns a Moral. (2008)
Kepple drew the Life with Lamarr guest comic, Intermission. (April 2009)
Co created the music for Level 5 of the game Lamarr Is Going Home. (May 2009)
Kepple voiced the Test Subject on the CamPanulas' album, Fizziks Enjinn, which also included the song, Mindy Theme, as a bonus track. (July 2009)
Kepple created the Life with Lamarr guest comic, Requiem for a Headcrab, which introduced the characters Bazza and Gazza. (October 2009)
In the animation Spy & Pyro, Cubbage and This One were seen sitting next to each other during the wedding scene. Co also captured the screenshot of the church from Hitman 2 where the wedding takes place. Later a pigeon was seen watching the relationship be consummated to his horror. (February 2010)
Kepple provided voices for both Cubbage and This One in machinima shorts and the gadget episode Naughty Vorti. He has also written some scripts for Cubbage shorts which are in production.
The CamPanulas' song, Derp Derp Derp, was used in Kepple's animation, Sophisticus, which Co also had a cameo in singing part of the song of the same name. (December 2010)
Ad blocker interference detected!
Wikia is a free-to-use site that makes money from advertising. We have a modified experience for viewers using ad blockers

Wikia is not accessible if you've made further modifications. Remove the custom ad blocker rule(s) and the page will load as expected.